Washington Food Safety Regulations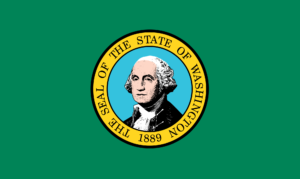 In order to safely serve food at any type of food establishment, all food workers must go through food safety training. This includes but is not limited to restaurants, bed and breakfast facilities, temporary food events, and food workers selling prepared food at farmers' markets. They must also pass the State of Washington exam on food safety basics. (Chapter 246-217 WAC) After passing the exam, workers will receive a Food Worker Card, also called a Food Handler's Permit. Workers must keep the original card or a copy at work to present to the health department during an inspection. Food workers are chefs, cooks, wait staff, dishwashers, bartenders, and bussers. 
The reason Washington state requires food handler certification is because it is an important factor in maintaining a safe public health environment for its residents. Around 600 people are affected each year in Washington state alone by foodborne illnesses which can cause hospitalization, discomfort, or even result in death. Most large outbreaks are caused by food establishments that somehow touch the public such as restaurants and other food processing facilities. This is why having a standard for workers associated with these food establishments is critical for keeping people safe from foodborne risks. 
Food Manager Certification
Although certification is not required, food workers must demonstrate knowledge. Washington State does not have any distinction between Food Managers and Food Workers.
Food Handler's Certification
Food Worker Cards, or Food Handler's Permits, are required and must be obtained within 14 calendar days of beginning work. The options for obtaining a food handler card or food handler permit is through a local Washington state health department which is listed here. You may also visit http://www.foodworkercard.wa.gov for an online training program. 
Any food handler card obtained through a local health department or through the qualified online training program allows you to work at a food establishment in the state of Washington. Cards that were obtained from outside Washington state do not qualify. 
Cost
A Food Worker Card, or Food Handler's Permit, cost $10. The card is issued by the health department and the price is used to cover the cost of the training, education, and testing.
Certification Renewal
Food Manager- 5 years; Food Handler: first card is valid for 2 years. Renewals can be valid for 3 or 5 years. In order to review the card for 5 years, food handler must have proof of meeting the Additional Food Safety Training within 2 years before the renewal. 
Additional Food Safety Training can be taken from a list of approved comprehensive additional food safety training programs that are at least 4 hours in length and cover the following food handling topics:
Proper cooking

Hot-holding, cold-holding, and cooling of potentially hazardous foods

Cross-contamination prevention

Hazardous Analysis Critical Control Point (HACCP)

Proper hand-washing technique
The Additional Food Safety Training does not substitute for the basic Food Handler Safety Course that the Washington State provides. In order to qualify for the 3 or 5 year renewal, you must complete an approved Additional Food Safety Training Course in addition to the Washington Food Handler Safety Course and Exam.
Approved Courses
Washington State Department administered training only. For questions, contact the Tacoma-Pierce County Health Department at [email protected] or 253-798-6145.
Approved Options
Local health departments provide food safety training courses. They also conduct online exams. Note Washington state's health department (www.foodoworkercard.wa.gov) is the only approved online training program. Similar websites are not valid in Washington.
Special Notes and Exceptions
Washington Food Handler's cards are issued by the state of Washington. Food workers may work in another county with the same card, but cannot work out of state with his WA food handlers card.
Additional Resources
For additional information, visit Washington Department of Health resources:
Washington Department of Health website