New York Food Safety Regulations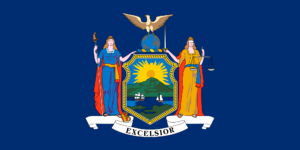 State & County specific requirements exist. However, at least one Food Manager on staff  is required at the state level.
Food Manager Certification
Required at the state level. Requirements vary by county.
Food Handler Certification
Strongly suggested. Not mandatory.
Cost
Check with your certified local training courses.
Certification Renewal
Food Manager – 5 years with exam, 2 years without exam; Food Handler – 5 years
Approved Courses
Prometric, ServSafe, National Registry of Food Safety Professionals (NRFSP), and 360 Training
Approved Options
Classroom, Online, or Pearson Testing Centers. Please check your local health department for the most up to date information.
Special Notes and Exceptions
Food Manager must complete a Food Safety Course of a minimum of 8 hours that has been approved by the Department of Agriculture.
New York City Requirements
NYC government offers two options for food safety training required of supervisors.

Classroom training for 15 hours over 1 week for $114
Online training for 15 hours for $24.60
Both options require a passing grade of 70% or above on an in-class exam in order to obtain certification.

A link to the online food protection course can be found

here

.

Once you have passed the exam, the Food Protection Certification will be mailed to you between 2-6 weeks

.
More information can be found on Food Handler's License in NYC page.
Additional Resources
For additional information, visit New York Department of Health resources:
Division of Food Safety & Inspection