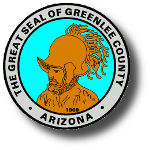 Greenlee County Food Handlers Requirements
Greenlee County Food Handler's Certificate be can obtained by taking the online course. Once individuals obtain the Food Handler's Card, the card is valid for 3 years. The training fee is $10. The course covers important food safety handling techniques and takes about ~3 hours. For Spanish speakers, there is an option to take the course in Spanish.
Please visit the Greenlee County official website for more information. If you'd like to test your knowledge on food safety training, please check out our Food Safety Certification Practice Tests.