Florida Food Safety Regulations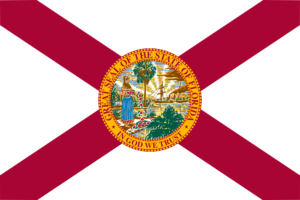 Food Manager needs to be present when four or more employees are present onsite. Check with local health department for county specific requirements. Food workers must complete training within 60 days of beginning work.
Food workers must have training specific to their responsibilities. If a food worker is responsible for food preparation, he or she must know the safe methods of storage, cleaning, prep etc.
Food Manager Certification
Required – Minimum one certified manager per facility. One per shift if 4 or more employees.  If a food manager resigns, the establishment has 90 days to find a replacement or get someone else certified. Food managers do not need to go through food worker training.
Food Handler Certification
Must take a Florida approved Food Handler Course if job requires food preparation, display or storage. Local requirements could vary, check with local health department. Required state approved course: 2 hours.
Cost
Check with certified food handler course providers. 
Certification Renewal
Food Manager – 5 years; Food Handler- 3 years.
Approved Courses
State approved food handler courses here. Prometric, ServSafe, National Registry of Food Safety Professionals (NRFSP), and 360 Training approved for Food Managers.
Approved Options
Classroom, Online, or Pearson Testing Centers. Please check your local health department for the most up to date information.
Special Notes and Exceptions
Food workers need to complete training that does not include a written exam.
Additional Resources
For additional information, visit Florida Department of Health resources:
Division of Hotels and Restaurants
61C-4: Public Food Service Establishments