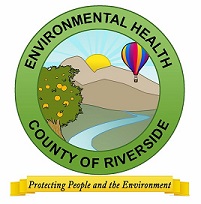 Riverside county is the fourth most populous county in the state of California with a population of 2.2 million. Riverside brings in a large number of tourists with resort cities such as Palm Springs, La Quinta, and Desert Hot Spring. In addition, commuters from L.A. have gradually migrated to Riverside county thanks for affordable housing costs. Due to being a resort town, Riverside county has had a food handler's card program dating back to 1978. 
Food Handlers Card:
Anyone whose job covers handling food, beverages or utensils are required to obtain a food handler's card. While a food handler's card obtained in California allows you to work in most counties,  Riverside County offers two options for obtaining a food handler card: online and at one of their are offices. Food workers must obtain a food handler certificate within 7 calendar days of starting a new job.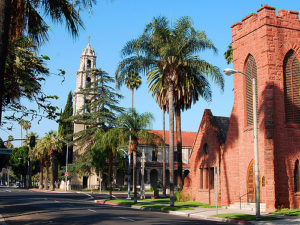 Statefoodsafety.com is the ONLY approved online course. The cost of the course is $27 and it is available in English, Spanish, Korean, Chinese, Vietnamese, and Tagalog. The duration of the course is roughly 75 minutes long and you will need a minimum of 70% on the test to pass. Upon completion, a Riverside County Food Handler Certification Card will be available for printing.

Option two is to read and study the county provided manual and head to an Area Office to take a 50 question exam. The cost is also $27 and you must answer at least 35 questions correctly in order to pass.
Additional Info on Food Handler Certificates
Certificates are valid for two years

If a food handler fails the exam, he or she may retake the exam up to two times within seven days of the first exam at no additional cost

Original food handler certificates are required to be on-site at the place of employment. Photocopies are not accepted.

Duplicate copies or replacement for lost certificates can be printed at the online course website or issued from an area office at no additional cost.
Mobile Food Operations
Mobile food operations are regulated by the California Health and Safety Code and Riverside County Ordinances to maintain a high level of sanitation and food handling safety for public consumption. All of the following types of food establishments are included in the mobile food operations category.
Mobile Food Preparation Unit: Full food preparation (e.g. food trucks)

Non-prepackaged Food Vehicle: Limited food preparation (e.g. hot dog cart)

Prepackaged Food Vehicle: Sale of prepackaged food only (e.g. ice cream truck)

Prepackaged Food Cart: Sale of prepackaged foods in a non-motorized vehicle (e.g. drink cart)

Produce Vehicle: Sale of uncut, whole produce from an approved source
If you are interested in starting a mobile food operation, please refer to the Mobile Food Facility Checklist of Riverside County.
Homemade Food Operations
Under the California Homemade Food Act or The Cottage Food Bill AB1616, residential kitchens that have been authorized by the Department of Environmental Health are allowed to prepare, store, and sell low risk foods to the public. This law was effective starting January 1, 2013 and was passed in order to encourage small businesses to create jobs for economic recovery. These businesses are officially known as Cottage Food Operations (CFO).
Foods that are allowed to be sold from private kitchens are low-risk, meaning they do not require refrigeration, are not susceptible to bacterial or pathogenic reproduction, and are a low threat to public health. Some foods that have been authorized as a part of the Cottage Food Bill are listed below:
Dried or dehydrated vegetables, fruits

Dry pasta

Baked goods with no cream or meat fillings (e.g. breads, cookies, tortillas)

Cereal, granola, or trail mixes

Nuts and nut mixes

Frosting or icing that has no eggs

Candy such as chocolate covered nuts and fruits, cotton candy, fudge, or toffee

Powdered hot chocolate, tea, or coffee

Chips, potato or vegetable based

Honey

Salt and herb blends

Nut butter

Popcorn
Riverside

Department of Environmental Health Hours:
7 am – 5:30 pm, Monday – Friday. Closed all major holidays.
Location:
Riverside Health Bldg | Main Office
4065 County Circle Dr
Riverside, CA 92503
Services Provided: Foods, HazMat, Pools, Mobilehome Parks
Phone: (951) 358-5172 (Foods,Pools, Mobilehome Parks)
Phone: (951) 358-5055 (HazMat)
Fax: (951) 358-5017
TDD: (951) 358-5396
Downtown Riverside | Branch Office
3880 Lemon St, Suite 200
Riverside, CA 92501
Services Provided: Land Use, Septic Tanks, Solid Waste, Water Wells, UST Cleanup, Body Art, Food Handler Cards, HazMat, Industrial Hygiene
Phone: (951) 955-8980
Fax: (951) 955-8988
Blythe | Branch Office
County Administrative Center
260 N Broadway
Blythe, CA 92225
Services provided: Food Handler Cards
Phone: (760) 921-5090
Fax: (760) 951-7978
Corona | Branch Office
2275 S. Main St, Suite 204
Corona, CA 92882
Services Provided: Foods, HazMat, Pools, Mobilehome Parks
Phone: (951) 273-9140 (Foods, Pools, Mobilehome Parks)
Phone: (951) 273-9143 (HazMat)
Fax: (951) 520-8319
Hemet | Branch Office
Sanderson Professional Building
800 S Sanderson Ave
Hemet, CA 92545
Services Provided: Foods, Hazmat, Pools, Mobilehome Parks, Vector
Phone: (951) 766-2824 (Food, Pools, Mobilehome Parks)
Phone: (951) 766-6524 (HazMat)
Phone: (951) 766-9454 (Vector)
Fax: (951) 766-7874
Indio | Branch Office
47-950 Arabia St, Suite A
Indio, CA 92201
Services Provided: Land Use, Septic Tanks, Solid Waste, Water Wells, UST Cleanup, Body Art, Foods, HazMat, Pools, Mobilehome Parks
Phone: (760) 863-8287 (Foods, Pools, Mobilehome Parks)
Fax: (760) 863-8303 (HazMat, Foods, Pools, Mobilehome Parks)
Phone: (760) 863-8976 (HazMat)
Phone: (760) 863-7570 (Land Use, Septic Tanks, Water Wells, Solid Waste)
Fax: (760) 863-7013 (Land Use and Other Programs)
Murrieta | Branch Office
38740 Sky Canyon Dr, Suite A
Murrieta, CA 92563
Services Provided: Foods, HazMat, Pools, Mobilehome Parks
Phone: (951) 461-0284 (Foods, Pools, Mobilehome Parks, HazMat)
Fax: (951) 461-0245
Palm Springs | Branch Office
554 S Paseo Dorotea
Palm Springs, CA 92264
Services Provided: Foods, Pools, Mobilehome Parks
Phone: (760) 320-1048
Fax: (760) 320-1470
Resources: