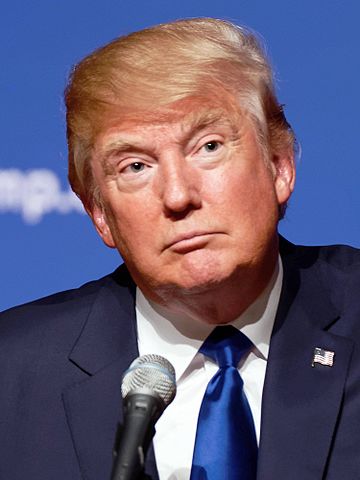 The first presidential debate of the year starts tonight at 9PM Eastern Time on all major networks as well as online for live streaming. Tune in to watch Donald Trump and Hillary Clinton with moderator Lester Holt.
Earlier this month, Trump's campaign released a policy fact sheet highlighting a few topics including the EPA and the FDA. Interestingly, the fact sheet called for the deregulation of food safety rules relating to food production and contamination prevention.
The section on food safety begins with "the FDA Food Police, which dictate how the federal government expects farmers to produce fruits and vegetables and even dictates the nutritional content of dog food." It entire document was meant to supplement a speech Trump gave at the New York Economic Club but he did not mention the FDA during the speech. Shortly after the release, the fact sheet was taken off of Trump's website and replaced with a new version that does not mention food safety regulations.
The language of the document is very similar to a report by The Heritage Foundation earlier this year which criticized new regulations put forth in the past few years by the FDA as being an "exceedingly broad regulatory net." Some of the larger food safety failure in recent years include a listeria outbreak last year from Blue Bell ice cream. During FDA inspections at Blue Bell after production was halted and products were recalled, it was found that several regulations were breached. Employees were not using proper hand-washing techniques, food was not held in safe temperatures, and some equipment were not being cleaned regularly or properly.
The FDA estimates that 1 in 6 Americans get sick from food-borne illnesses each year and approximately 3,000 people die. In response to listeria, salmonella, and other food contamination illnesses, the FDA revamped some food code regulations that require farmers to closely monitor water irrigation systems and train workers on basic safe hygiene practices. Additionally, food for humans and animals need to be produced, processed, packaged, stored, and held with preventive measures in place to avoid contamination.
The reaction to the release of Trump's fact sheet seemed to be mostly confusion since it was taken down on the same day. The former FDA commissioner Michael Taylor commented that "Eliminating FDA's food safety role would make more consumers sick, destroy consumer confidence at home, and damage American competitiveness in global food markets."
We hope that this topic gets some air time during tonight's presidential debate. If you would like to read the original fact sheet which includes a section on the FDA, you can find a screenshot below.
Cross-contaminat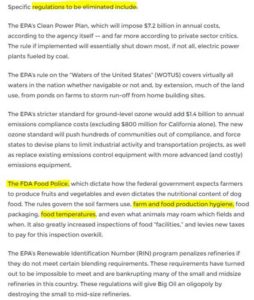 ion prevention is a major component of food handling safety. For more information on food codes and food safety, please visit our state food handling requirements page.