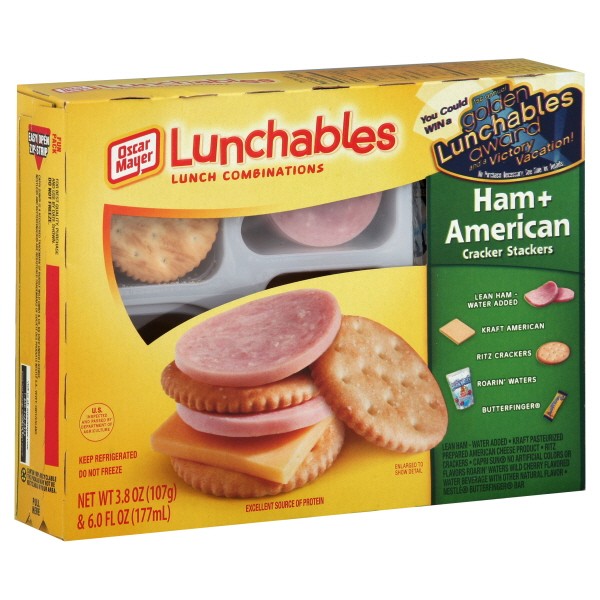 One of grade school students' most beloved pre-packed lunches is being recalled in the states of Utah and California. The Food Safety and Inspection Service announced that the Lunchables brand of packaged food mislabeled a batch of their product without a warning that the package contains soy and what which are known allergens. Lunchables is owned by Kraft Heinz Company which is based out of Fullerton, California. The batch affected by this mislabeling approximates 960 pounds of food and are called "Lunchables Ham and American Cracker Stackers". Each box has four compartments and have a use by date of December 25, 2016. 
Kraft Heinz discovered the problem when they received a customer call with a complaint about the undeclared allergens. There have not been any illnesses reported linked to this case. Even if you are not allergic to the ingredients that have not been declared on this ready-to-eat product, all consumers who have purchased the affected batch are recommended to dispose of any remaining food or return it to the place of purchase. The Food Safety and Inspection Services takes recalls very seriously in order to prevent any illnesses from impacting consumers. Another resource that is available to individuals who are susceptible to food allergies is the Food Allergy Research & Education organization. They provide up to date information on food products that may have mislabeled their products for allergens and ways to protect yourself from exposure to these allergens. The most common allergens are milk, soy, eggs, wheat, peanuts, tree nuts, fish and shellfish and the highest risk group are children as adults may grow out of allergies.
If you live in either Utah or California and have purchased a Lunchables product recently, keep an eye out for the September 21, 2016 production date and December 25, 2016 use by date. Approximately 200 people die every year due to allergic reaction caused by food consumption so it is important to stay up to date with recalls. If you are a food service establishment owner or you work as a food handler, know what recalls are active in your area to prevent serving food that may cause food-borne illness or worse.
For Utah's food code and more information, visit our Utah Food Handlers page.
For California's food code and more information, visit our California Food Handlers page.